Conscious, Sustainable and Luxury Fashion Designs
OMRA is the first Sustainable Fashion Brand in Romania.
OMRA's simple mantra is wanting to make women beautiful, without harming our planet.
The brand's attention to detail is what truly makes each piece worth investing in.
OMRA is using only premium quality fabrics produced in Italy, France, Spain and Greece.
All our products are designed by Chrisa Dobreanu and are ethically manufactured in Romania.
ORDER NOW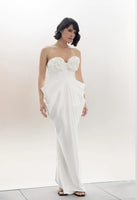 BRIDAL by OMRA
Chrisa Dobreanu redefines what a bride wears in 2023, focusing on Made-to-measure wedding looks that reflect each woman's unique personality.
Chrisa is bringing the fashion-forward elements from OMRA ready-to-wear to her bridal collection, using demi-couture techniques and luxurious fabrics to create designs that you can carry beyond the wedding.
Discover OMRA bridal collections! 
Order Now
INSTAGRAM
Follow @omradesign